On The Road To Nomad – Days 9 through 10 Mount Rushmore, Crazy Horse Memorial, Custer State Park, Needles Highway and Mammoth Site – Joe
On The Road To Nomad – Days 9 through 10 Mount Rushmore, Crazy Horse Memorial, Custer State Park, Needles Highway and Mammoth Site – Joe
Our journey on Day 9 (5/26/18) finds us on a nice peaceful drive from The Badlands which after about an hour turns into steep inclines as we climb into the mountainous region of the Black Hills Forest. This wasn't so bad, the only problem with the drive was that at times the weight of our trailer wouldn't allow my truck to go any faster than 35 MPH. Finally we got to the top, driving was going to be much easier now. We took the winding, twisting roads at a steep decline and I kept my speed to around 45 MPH the whole time using my brakes while we coasted to the bottom which ended at the sleepy little town of Keystone. As we sat at the single intersection of Keystone my wife Julia pointed out to me that my brakes were smoking (Damn! That can't be good.) We pulled up the road a bit to a large shoulder and sat for 20 minutes while the brakes cooled. I should have practiced with down shifting more. Once we got moving again we turned a corner and saw the awesome landscape of Mount Rushmore in front of us and knew that we were only minutes from our destination for the night at the Mt Rushmore KOA. We knew that we were going to be staying here for 3 days and were all excited to be finally stationary for a few days. The downside turned out to be the fact that we had no cell service and the advertised wifi at the campground was virtually non-existent. After un-hitching and setting up we set out to visit the rich history and awesome spectacle of Mount Rushmore.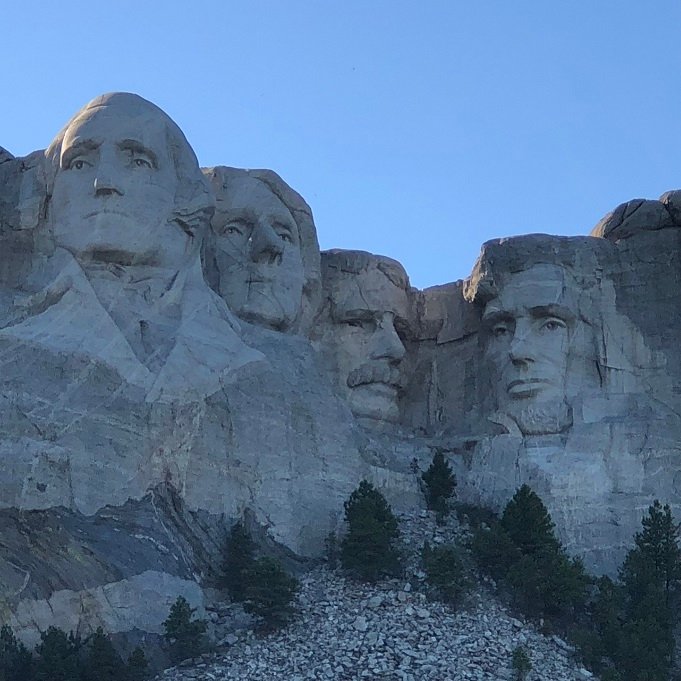 George Washington's profile.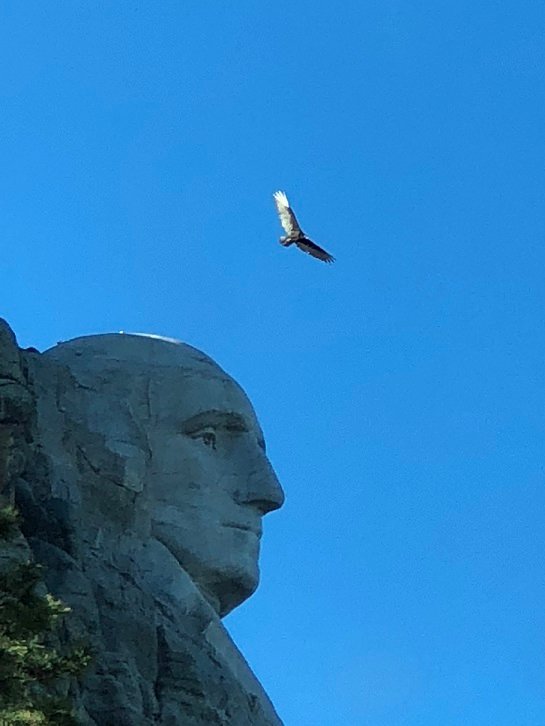 Julia with Honest Abe in the background.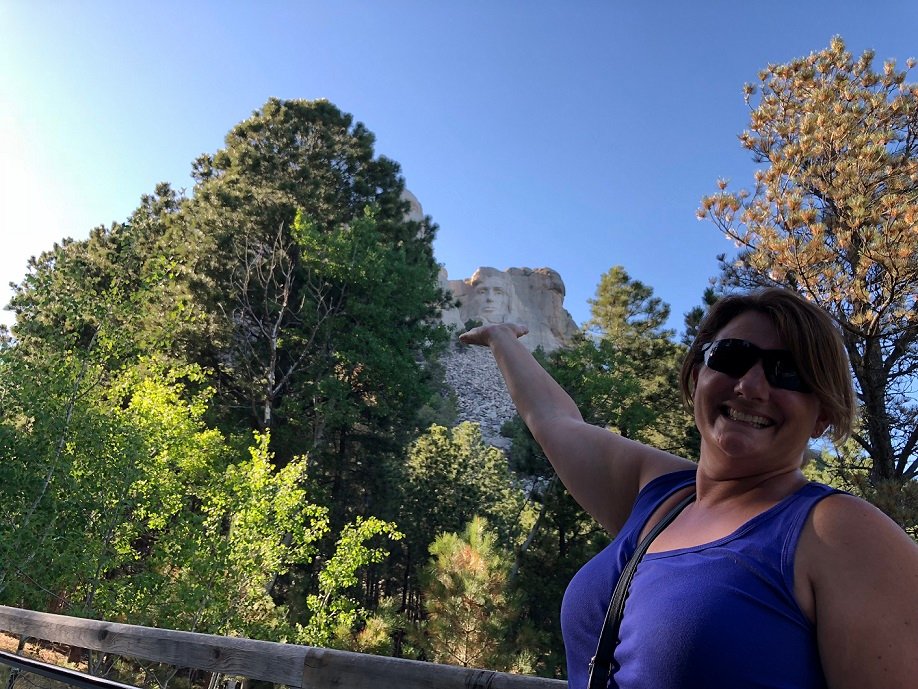 After checking out the fabulous scenery and walking the paths at Mount Rushmore we took a short drive to the Crazy Horse Memorial
We paid $30 to get into the Crazy Horse Memorial Site but unfortunately were not able to get a better look at the under-construction monument than we could see from the highway. This was frustrating at first, especially considering we only had to pay $10 to park at Mount Rushmore AND we got to get up close and personal at Rushmore. The Crazy Horse Monument has been under construction for the past 70 years and has truly only begun to take form since the 1990's. Once it's done it will be pure badass, unfortunately anyone reading this will probably not be alive to see that day.
After checking out the historical center and shops at Crazy Horse we drove back to our trailer but not before stopping into town on the way back in to get some cell service (aka internet).
Day 10 (5/27/18) was to be another day of adventure. First, we headed to Custer State Park. We expected to see copious amounts of bison en masse as we drove through the park but upon entering and driving around for nearly an hour and a half all we saw were a few deer and donkeys, WTF!
Sigh, oh well maybe it's a timing thing and we just came at the wrong time. We were only about a mile from the other entrance and knew our time in Custer State Park was coming to an end. Maybe we'll make it out this way again some other ti… but wait, what's this? Hold your horses, errr I mean bison, we finally hit the motherlode…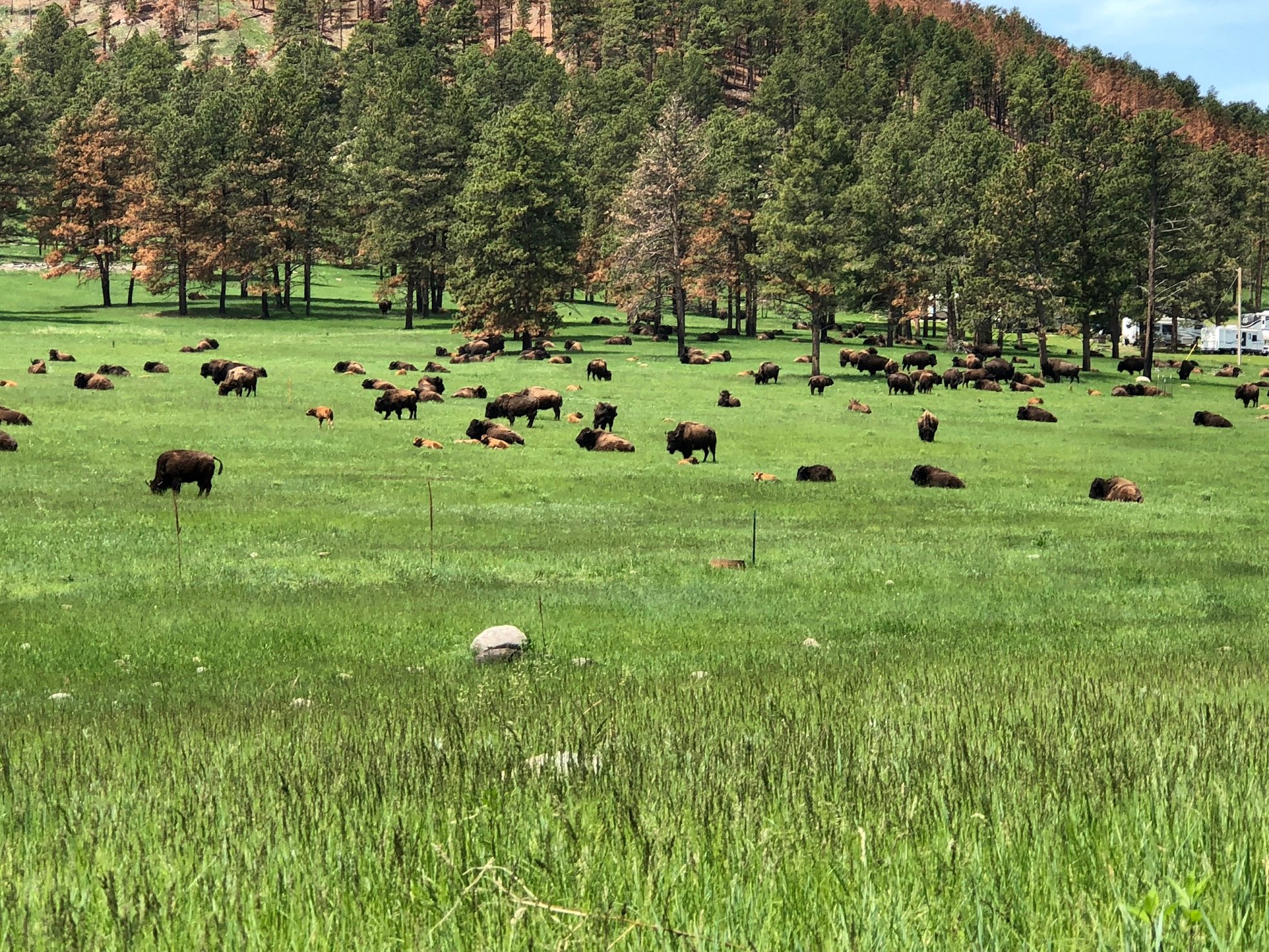 This made us all so happy and was the perfect ending to our drive through Custer State Park. Our next destination was to the town of Hot Springs with bathing suits in tow. Even though it wasn't hot out who could resist a dip in some hot springs. First though we stopped at a quaint little cafe called The Daily Bread Bakery and Café (look them up on Facebook) to grab a bite to eat. While I was enjoying my breakfast burrito and side of homemade jalapeno, bacon and cheese toast @juliabreheny was researching the hot springs and noted that the water temperature was a consistent 67 degrees. Now we have just come from the hot ass state of Florida and we won't even go in a pool that isn't over 75 degrees so… fuck that!
Well, not a problem we'll just hit the next place on our list which is the The Mammoth Site which is an active archeological dig which boasts a whopping 61 mammoths found on site and the digging isn't even halfway done. This was simply incredible.
After that it was back to the campground for some coffee and chill time.
Day 11 turned out to be our least busy. We took a short road trip to the Needles Highway – Scenic Bypass which was an incredible drive through winding narrow roads with several parts of the highway carved through the mountain to form very narrow tunnels. We pulled off on one of the shoulders and took a small hike through the back country (dog JoJo got to come too, yip yip). Both Julia and son Nick were wearing flip flops (remember how I said we were from Florida?) but they bore it like the troopers that they are. Then we decided to spend the remainder of the day back at the campground where Nick played on the water slide for a solid 3 hours while I climbed up on the highest rock I could find trying to get a good wireless signal.
I really missed out on taking some good photos but luckily Julia is always there doing her best Peter Parker imitation. Be sure to check out her posts to see some of her great photography as well as get her balanced perspective on our travels.
It took me considerably longer to get this post published due to us being in some very remote areas with spotty internet service at best.