On The Road To Nomad – Day 7 South Dakota to… South Dakota? Whaaaaaat? – Joe
On The Road To Nomad – Day 7 South Dakota to… South Dakota? Whaaaaaat? – Joe
Ahhhhh, Life on the road! It is so exhilarating, so calm, so peaceful, so fucking exhausting.
We knew what we were getting into when set out on our lifelong adventure. My wife Julia has it all mapped out and the first 7 days have been spent setting a blistering pace to get across the country. Every day we spend about an hour tearing down and getting our rig ready to travel and then another hour setting it up once we get to our destination. The past few days have each been a little shorter than the last so the payoff at the end of the day is that much greater. Our average miles travelled each day is just around 300.
We spent today driving across South Dakota which is an absolutely beautiful state. The speed limit on the highway is 80 MPH which we didn't even realize existed in this country. You can see for miles both ahead and behind you and when you're pulling a 7500 pound, 30 foot travel trailer this makes for an easy drive. Unfortunately there are also some fairly heavy winds which can be just a little stressful when you're being tugged about while hauling at 70 MPH down the highway (No, we did NOT take advantage of the 80 MPH speed limit.)
At one point we came upon a fairly steep incline which went up for about a mile and when we crested the ridge at the top we could only marvel at the view from the top. Sprawling hills rolled across the plains resting high above the Missouri River as it meandered through the landscape. It was truly breathtaking.
We made great time and arrived at our stop for the evening at the KOA in Kennebec, SD. Nice little place with fairly level campsites and full hook ups.
Tomorrow will be our shortest travel day yet with less than 120 miles to the KOA at the Badlands plus we will be gaining an hour as we enter into Mountain Standard Time.
Miles travelled = 242
Going to keep it short for tonight.
Our view as we wrap it up for the evening.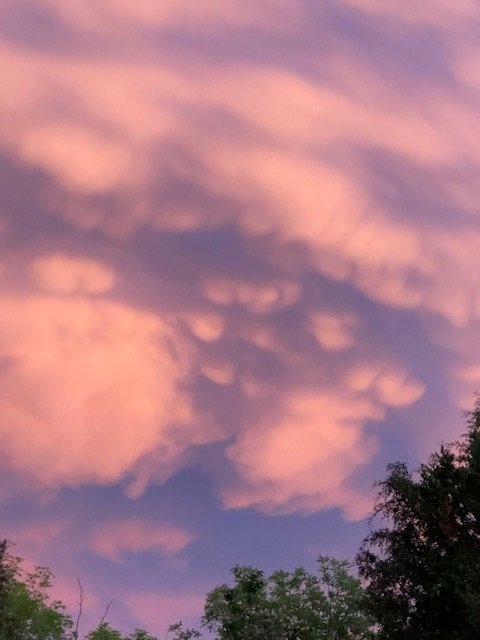 God's dog left a pawprint in the sky!