Seeking Freedom On The Road To Nomad Day 6 – Julia
Seeking Freedom On The Road To Nomad Day 6 – Julia
It was a fabulous day today as we were able to sleep in a bit later since our daily drives are now getting shorter and shorter. I was so happy to leave the bug infested Lewis and Clark State Park Campground around 10 am this morning. Today I celebrate freedom from the bugs as my first piece of happy.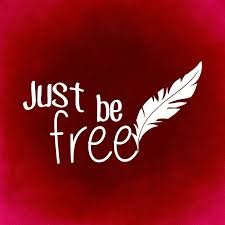 We are on our way to Sioux City, SD today and a 252 mile drive. Our shortest day yet since day 2. We took route 29 north which runs through the western side of Iowa from the south end of the state well into South Dakota. We were able to see Omaha, NE to our left along our route. So delighted to see this sign about 1 hour into our day.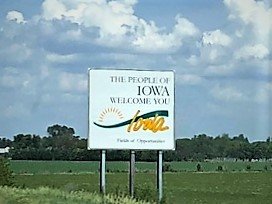 We stopped for gas at a Pilot Gas Station, one of the preferred if you are driving an RV. I head to the ladies room and while washing my hands, I see the token feminine product machine. Hmmm, a strange selection:
Sour Candy
OB tampons
2 different condom choices
Flavored lip balm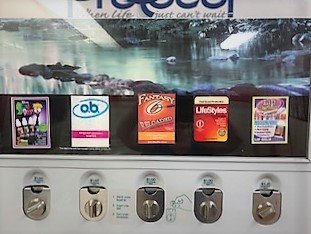 A couple hours later and we see another great sign. We are now officially in a state that we have never been. I am so excited that I can hardly stand myself. All I have in my immediate sights is visiting Badlands National Park on Friday.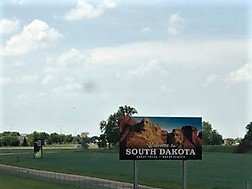 It has been a wonderful day. We were able to get some much needed rest and were set up at our home for night by 2:30 today. We took a short trip across the border back into Iowa to stock up on some groceries and finally I get to write and reflect on the last 6 days of travel.
It seems like each night I am lucky to get that final piece of happy before calling it a night. Last night was the little turtle and tonight was a little bunny.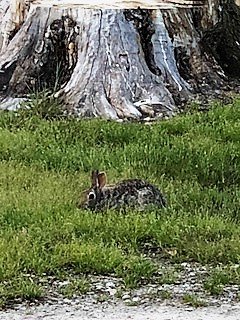 Total miles traveled in 6 days is 1635 with 727 left to go.