Our First RV Adventure – Newbies at the Wheel – 5th and final chapter
Our First RV Adventure – Newbies at the Wheel – 5th and final chapter
When we last saw our heroes they were on their way to Robertsville State Park in MO on day 12. Let's see how they've been doing.
Day 12 – Upon reflection of the fact that our stay during this evening would take us south when our ultimate goal was north we decided to make a little change in plans and headed instead to Mark Twain State Park in MO. It turns out a good portion of MO is named after Mark Twain. There's Mark Twain State Park, Mark Twain Campground, Mark Twain Caves and Mark Twain County to name a few. I think there's even a Mark Twain Potted Meat Product you can buy at the Mark Twain General Store and Commissary. After setting up our rig Jake and I took a path through the woods which led us to a copse with a path that was lined with paper plates (very Hansel and Gretelish). We followed this for about a mile before we decided we were probably being led to our untimely and violent deaths. During the trek I took no less than 5 spider webs to the face and Jake brought about 1000 chiggers back on his ankles. Jakes shoes were the only casuality of the entire trip. After that, dinner then bed.
Day 13 – Up and at em and off to Delaware
State Park in OH (what?). Another long day of travel and no mishaps Yay! We got to the campground at dusk, set up and had a quick dinner. While getting the fire started we heard a couple of animals fighting in the woods nearby, at first I thought it may have been Bigfoot and a Chupacabra but upon hindsight I think it was a couple of wild turkeys. Shortly after dinner it started raining heavily (it sounds like bacon frying on our rigs roof), so we all packed in the camper and hung out playing card and board games until bed time.
During the middle of the night I was sleeping in the upper bunk with Nick and was awoken by some major gastrointestinal discomfort and spent 20 minutes laying there praying it would go away but it didn't. So as quietly as I could I snuck down the ladder, checked the time on my phone (4:25 am), headed for the kitchen to grab the keys and a lantern and stepped on Jakes nads (he was sleeping on the floor, sorry again Jake) then tiptoed out the door and made the 1/8 mile trek to the bathhouse in total darkness armed only with a lantern and umbrella.
Business completed I headed out the door and saw a raccoon staring at me 20 feet away as the door shut behind me. Now I'm pretty sure I can take a raccoon with an umbrella but I considered either heading back into the bathhouse or pulling out my phone and taking a snapshot of the bugger. As i was fumbling with my phone the furry little fella decided to hightail it back into the woods. That's right ya little bastard you know who's the boss here. I snuck into the camper as quietly as I could and slinked back into the top bunk then breathed a sigh of relief for being back in the safety of the rig. Turns out Jake was the only person I woke up (getting your nads stepped on will do that to you I guess).
Days 14 through 16 -Hoorah, we made it to Rochester NY. Thank you to our gracious hosts and great friends Ron and Valerie for putting us up and putting up with our shit! We didn't get nearly enough time to spend with them or to see some other friend we wished we could have seen. I guess we'll just have to plan another trip up there and stay longer (but not in the winter, nuh uh). On day 15 we noticed that our inner tire on the rear passenger side was flat (go figure), so I made a call and drove it into a local tire shop and now we have 6, count them, 6 brand new tires. 4 Winstons, 1 Goodyear and 1 Dunlap. Thank you Ron for pointing out that I should put my lone inner Winston on the outside for a visual match all the way around, arghhh! Our final day was spent at the biennial family reunion at the my wife Julia's Aunt and Uncles residence. Uncle Bill and Aunt Kathy are two of the greatest people I have ever met. I've enjoyed this reunion ever since becoming a part of the family. We took a great picture with 5 generations of women from the family from Grandmother Margie all the way down to Baby Nora…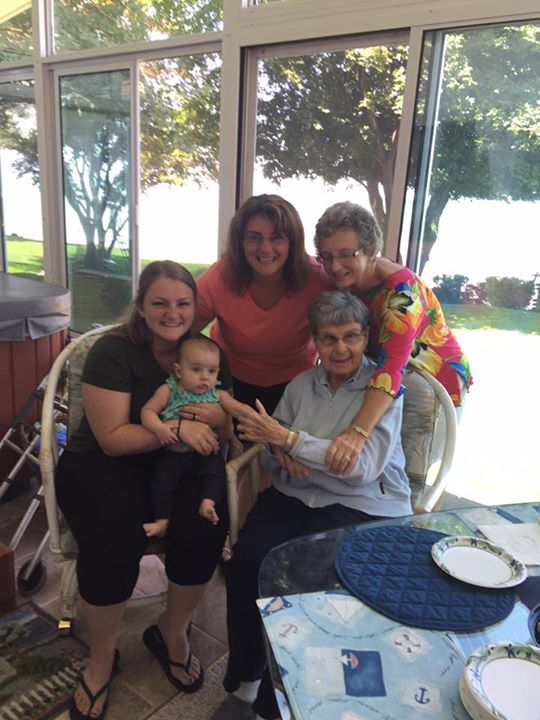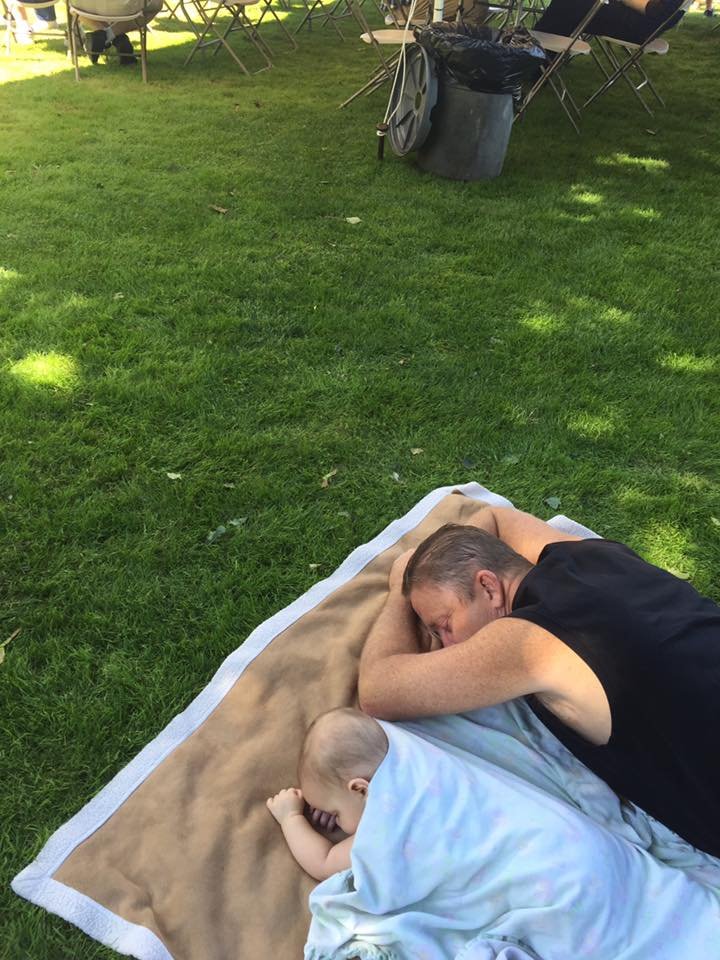 Here's me napping with baby Nora! Poses totally NOT planned.
And of course I can't forget one of my personal favorite activities of the reunion which is jamming on the guitar with with Cousin Jamie. All too soon the festivities were coming to an end and we had to pack up the camper and hit the road. We left right from the reunion to our destination at the Hills Creek State Park in PA. We got there well after dark and I got to enjoy by far the creepiest walk to a bathhouse I have ever experienced. With lantern in hand I travelled approximately 1/4 mile down the road, across a bridge, up a dark and foreboding hill to a building with a light on inside which I silently prayed was the bathhouse I was seeking. No raccoons this time but I did find 5 of the creepy crawlies pictured below, trying to share some space with me…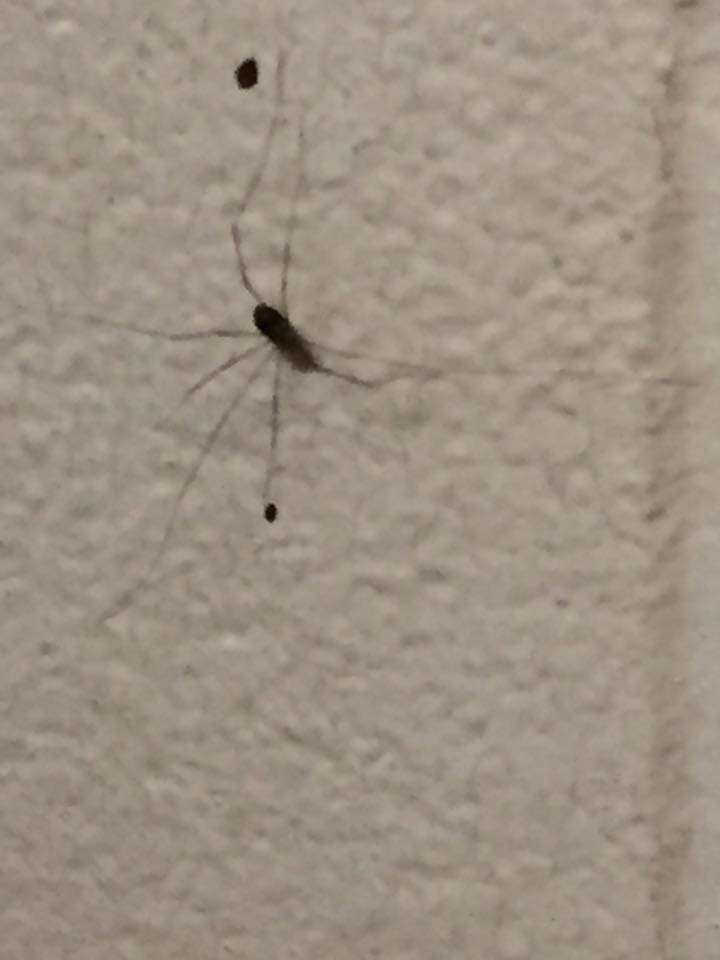 The return walk was equally as daunting and I felt a shiver up my back just as I reentered the camper. Whew! Another night alive.
Day 17 – Our last day on the road. We pack up and get on the road with no issues or hassles (we're RV veterans at this point) and head to our next destination. In this case our next destination is the place we have been calling home for the past 4 years but really it's just a stop before our next trip. Our first stop is at a badass truck stop called Kenly 95. This place was awesome, they had a full semi in the building and 2 pickup trucks on the roof of one of the shops within the truck stop. They sold everything travel related here and even had a ton of guitars (Yes!). From there it was a nonstop trip to our front door. We made it back early in the evening knowing our son had his first day of school the next morning when much to our surprise our neighbor advised us that it wasn't until the day after. Sigh, a missed day on the road. Well that about wraps up our story for our first and biggest road trip to date.
Thanks for checking in and we'll be seeing you… on the road.
Didn't get to follow along from the beginning? Click below to see the other entries from this fantastic trip.