Our First RV Adventure – Newbies at the Wheel – Part 3
Our First RV Adventure – Newbies at the Wheel – Part 3
Day 6 continued – After an hour our friendly neighborhood roadside assistant came and took off our blown tire and put on our spare. We took this opportunity to make the 30 minute trip to a highly rated tire shop to get our shredded tire replaced and 20 miles later POW!, our spare tire (now installed on the driver side front) blows (BOO!). I almost swerved into another lane of traffic but luckily managed to maintain control.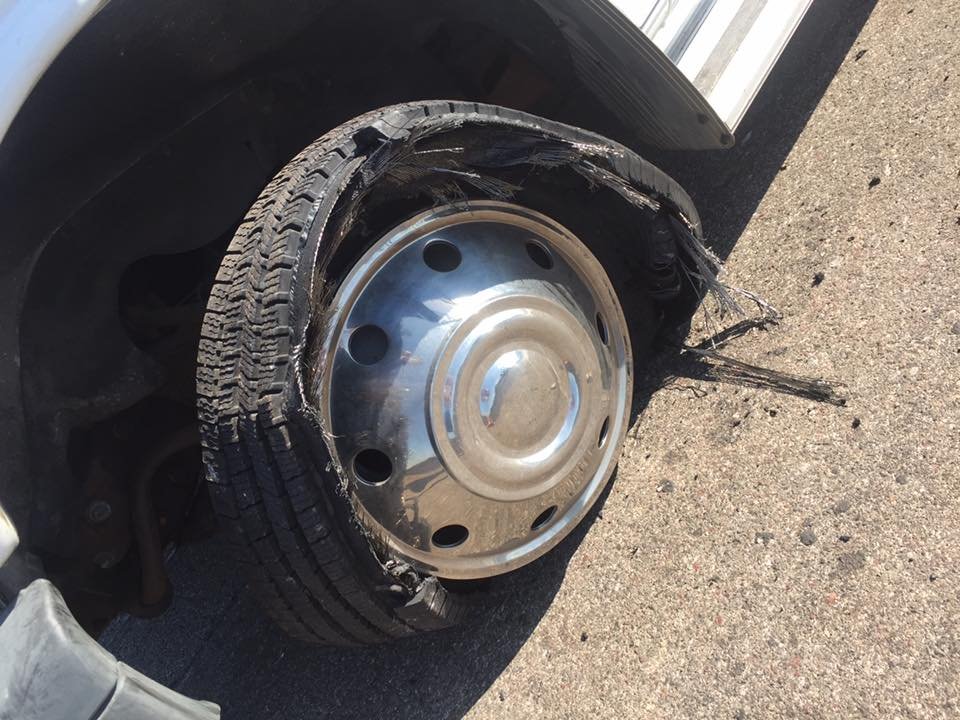 This is the same image from the prior post. By this time I wasn't in the mood to take another picture of the 2nd blown tire.
So I called our Roadside Assistance and talked to Iris (we're on a first name basis now), who now scheduled us to be towed by a heavy duty tow company to the aforementioned tire company. After almost 2 hours the tow guy shows up and I ask him how me, my wife, my son and my dog are all gonna fit in his truck which is huge in terms of towing heavy duty vehicles but the size of a large toaster oven in the cab. He says to me "Dem dere folks din't say nuthin bout 3 of yea and a dawg, but that's ok, I'll git a wrecker out here to take one or two of yea." So the wrecker shows up and he and his buddy climb up under our rig to disconnect our drive shaft (whaaaaaaat?). Yup has to be done and no, they are not allowed to reconnect it. So I did some research and the tire company has a LOT of services listed on their website so fingers crossed they can do it. I hop in the wrecker and follow my wife, son, dog and rig to the tire shop.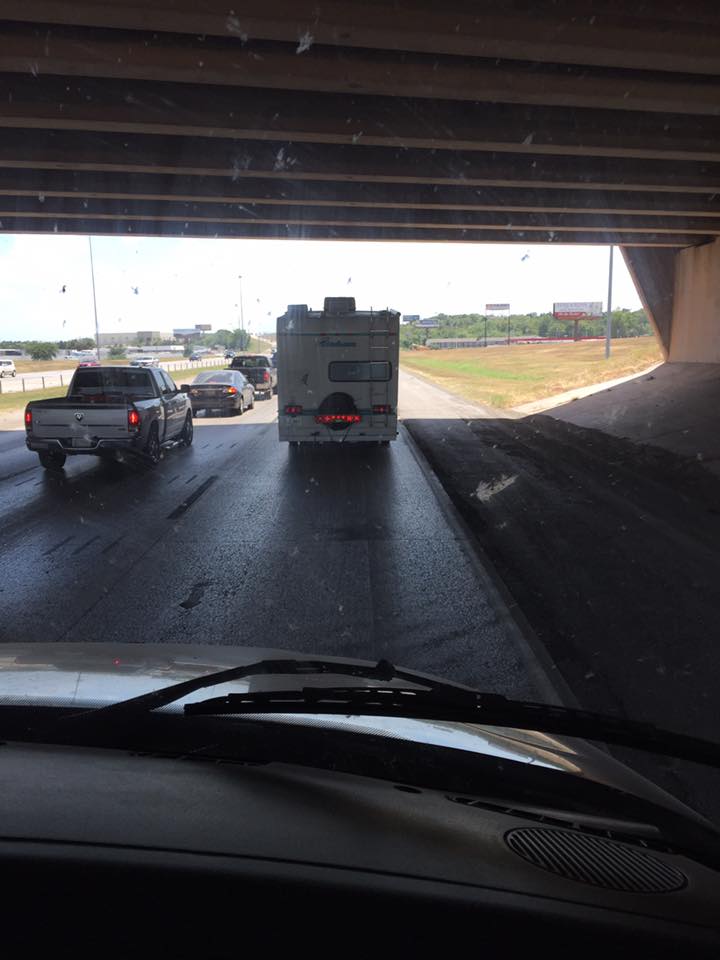 Turns out the tire shop in fact can NOT reconnect my drive shaft nor could the TA (Travel Association)down the road but they recommended a mobile mechanic company who probably could. So the tow driver drops our rig in the lot at the tire shop but unfortunately we have to wait until after hours when one of their roadside guys gets back into the shop because we can't even limp our rig into their work bay (remember the disconnected drive shaft?). The tire store representative tells me it will be awhile before their mobile tech gets back so I should go ahead and call the mobile mechanic. Ten minutes after calling the mobile mechanic I look out and see tires being removed from my rig (I hope these guys don't get in each other's way). The mobile mechanic comes out and gets the drive shaft on and about 45 minutes later we're ready to hit the open road again. In total we spent about 7 hours either on the side of the highway or hanging out at a tire shop.
Special shouts out to:
AAAA towing
T&W Tires
Truck Doctor
All based out of Oklahoma City, for getting us back on the road and helping us spend some of our money.
At this point we knew we weren't heading to our original destination just outside of Amarillo TX so picked a spot less than 30 minutes away. On our way we missed our turn (thankfully) or we would never have discovered this odd gas station/restaurant/convenience store which had hundreds of assorted pops on the walls called Pops (off of historic Route 66). They also sold hard to find sodas, old tyme candies and other cool sundry items. Very cool place.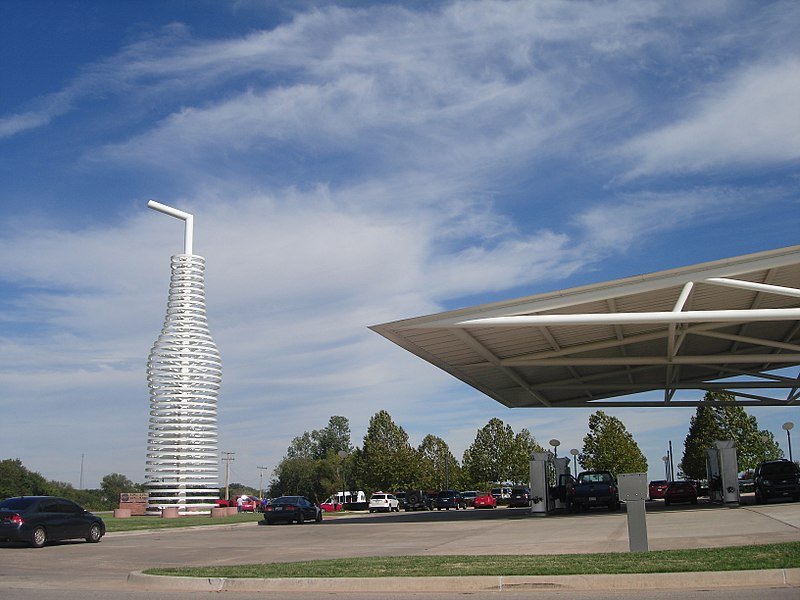 (image courtesy of https://commons.wikimedia.org)
Then on to our destination for the night at Central State Park at Lake Arcadia. I won't be able to say much about this place since it's just a place to lay our heads after a long day.
All in all a memorable day which ended with us all being safe.