Our First RV Adventure – Newbies at the Wheel – Part 2
Our First RV Adventure – Newbies at the Wheel – Part 2
If you haven't read my first post, I recommend you do so to get the full experience. If you did read it, thank you for continuing to follow our story.
Day – 4 The 2 campgrounds we were trying to decide between were a little too far off the beaten path so we started to head north towards Siloam Springs Oklahoma to Natural Falls State Park. We drove through some pretty country and hit a pretty nasty rain storm which was AWESOME.
A short detour to Walmart to stock up on some stuff and then on to our next overnight destination. Our plan is to enjoy the park and head out the next day.
We pull into the park and I go in the office and the lady gives me a map and says go in and pick your own site (sweet!) and then come back up here to pay. I jump in our rig to tell Julia the good news (that we have our pick of the park) and she turns to me and says "I have some bad news, the power window is stuck in the down position." NO, COME ON! REALLY? So we got all hooked and I pulled the door panel off and succeeded in getting NOWHERE with getting the window back up. Needless to say we didn't get to see any of the sights here at Natural Falls Park and had to sleep with the window cover over the rig and a sunshade stuffed around the inside.
Later that night (around midnight) I was walking back from the bath-house when I heard THIS loud noise right near my feet.
I just about jumped out of my skin.
Day 5 – We've decided to add a day to our stay to allow us to check this place out. I made a call to a local auto glass place and they sent a technician out within 2 hours. Upon arrival the auto glass tech says he thinks our motor is bad but will take 2 days to get the part in so we opt to have him release the mechanism and raise the window until we can get it fixed. He spends 20 minutes and about 2 feet of duct tape getting the window up and secured in place so I ask him how much I owe him and he says "not a dime", SWEET! Gotta love them country folk.
Now we can get to the good stuff, a little bit of hiking. We started out by taking the "Bear Trail" which actually connected us to another trail so we got to see some great scenery…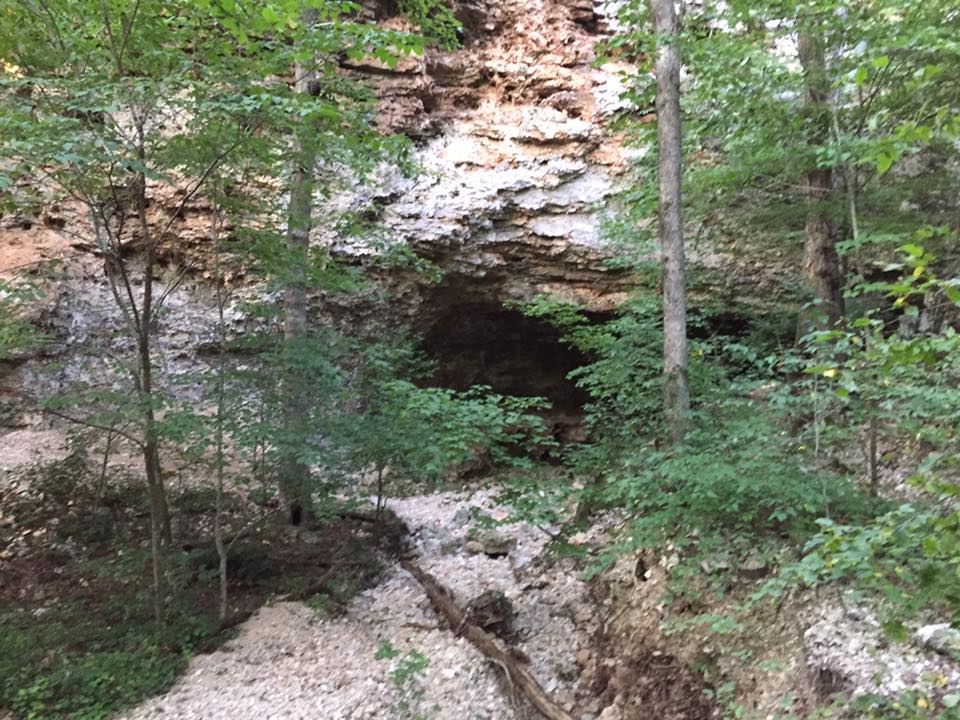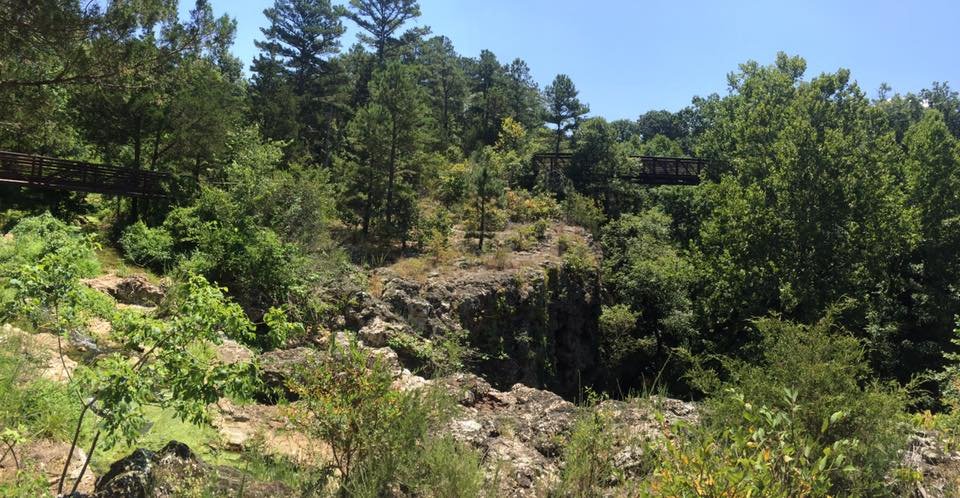 After that we headed back to the camper where we grabbed some lunch. I spent a good 45 minutes hand washing our dirty clothes and dainties and Julia ordered a power window motor and switch for driver side and a switch for passenger side (which never worked) on Amazon to be delivered to our destination in Colorado Springs, CO. I will be
DIYing it in a few days. Once it cooled down a little we took to challenging Fox Den Trail which was 1.5 miles of treacherous landscape. At one point we were so far down in a gully without an obvious path that I began to worry we would get out before sunset.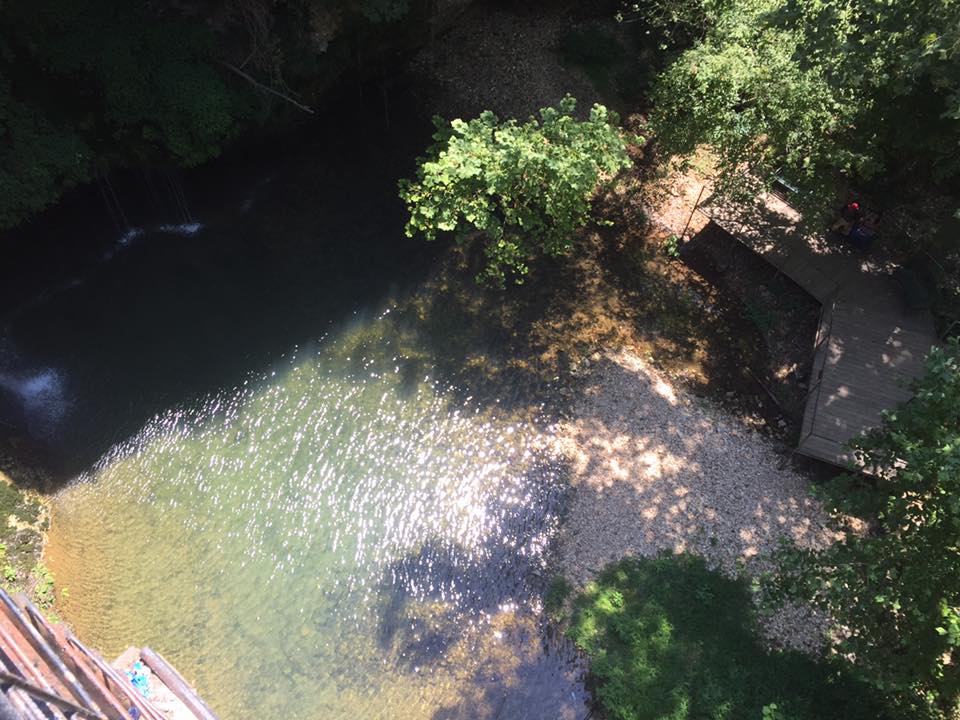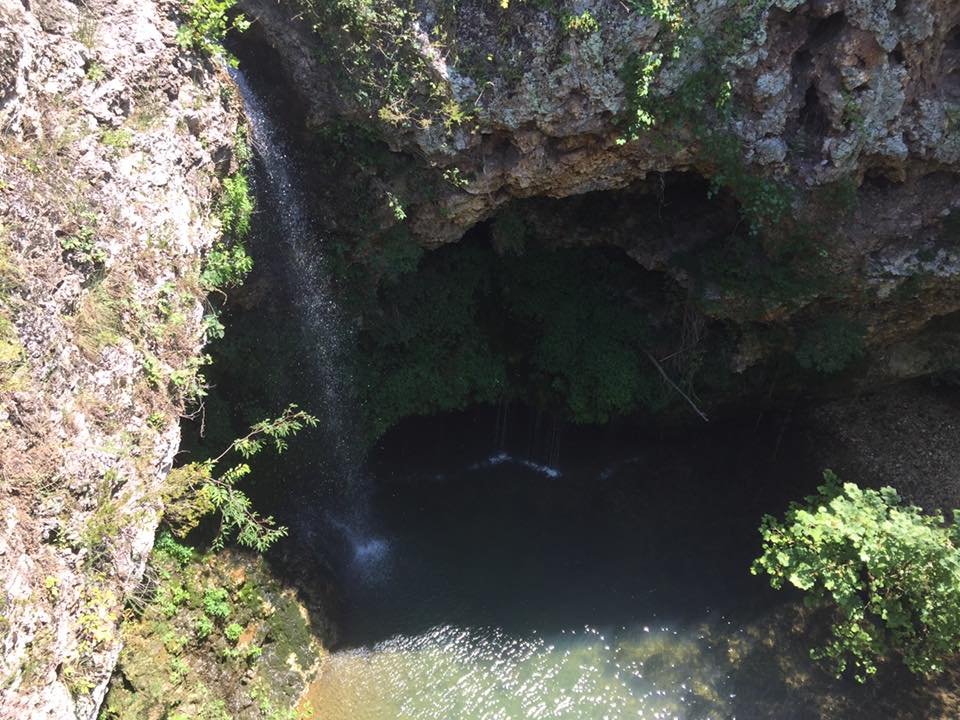 Afterwards we were all pooped out so we just cooked up some noms noms, sat around a fire and then went to bed.
Day 6 – Julia (my wife) is bound and determined that we will NOT be pulling into our next overnight stop anytime during the evening so in addition to the preparations and packing she did last night, she was up at 6:00 am getting ready to get us back on the open road. We're cruising through the rolling hills of Oklahoma and then… THIS HAPPENS!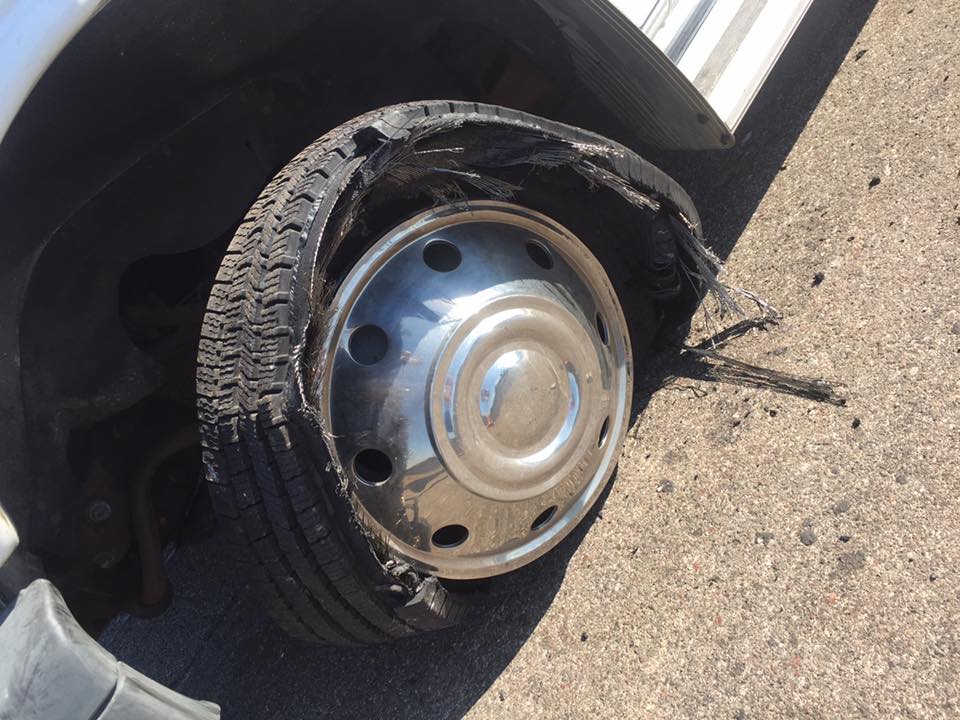 This took off a chunk of the front wheel and bent the hell out of the drivers side step. I used our dogs leash to tie the step up to the frame.
Since we didn't have a jack on board we sat waiting on roadside assistance hoping we'll still make our destination before the evening hours.
Tune in for the exciting and dramatic events that unfold on the remainder of day 6.