Our First RV Adventure – Newbies at the Wheel – Part 1
Our First RV Adventure – Newbies at the Wheel – Part 1
The following story is the first installment which chronicles the maiden voyage in our first RV. This was our first trip prior to going full time on the road.
To give you an idea of the timeframe, we purchased our first RV, a 1999 Chevy Express Coachmen in June of 2017, did some renovations and made our first trip starting mid August of 2017. Our adventure lasted for 3 weeks but it set the tone for how we wanted to live our lives going forward. So, without further ado let's hit the road…
Day 1 – We left Seminole FL and had a relatively uneventful 12 hour drive to Raccoon Mountain Caverns campground in Chattanooga TN. During one of our stops we noticed that there was a small leak coming from just above where the TV antenna used to be (bummer), we'd have to deal with that the next day. We arrived after hours and the camp was gracious enough to leave us an envelope with a map to our site. We hooked up electric and water and pretty much just went to bed.
Day 2 – My wife Julia did a tire check in the morning and noticed we had about an 18″ by 3″ strip of tread gone from one our rear tires. I called around to a couple of places and since it was a Friday we hightailed it into town to get the tire changed out. The guy we bought it from said he had tires put on about 6 months prior to our purchase and they all looked great but well hey, now we had one brand new tire. On our way back we stopped at Ace Hardware to get some sealant for the area on the roof we believed was leaking. I borrowed a ladder from Ace and climbed up and did a quick spot check. All this only took about an hour and a half so we headed back at the campground for some fun. We walked up to the caverns for a little mid afternoon spelunking, (yay)…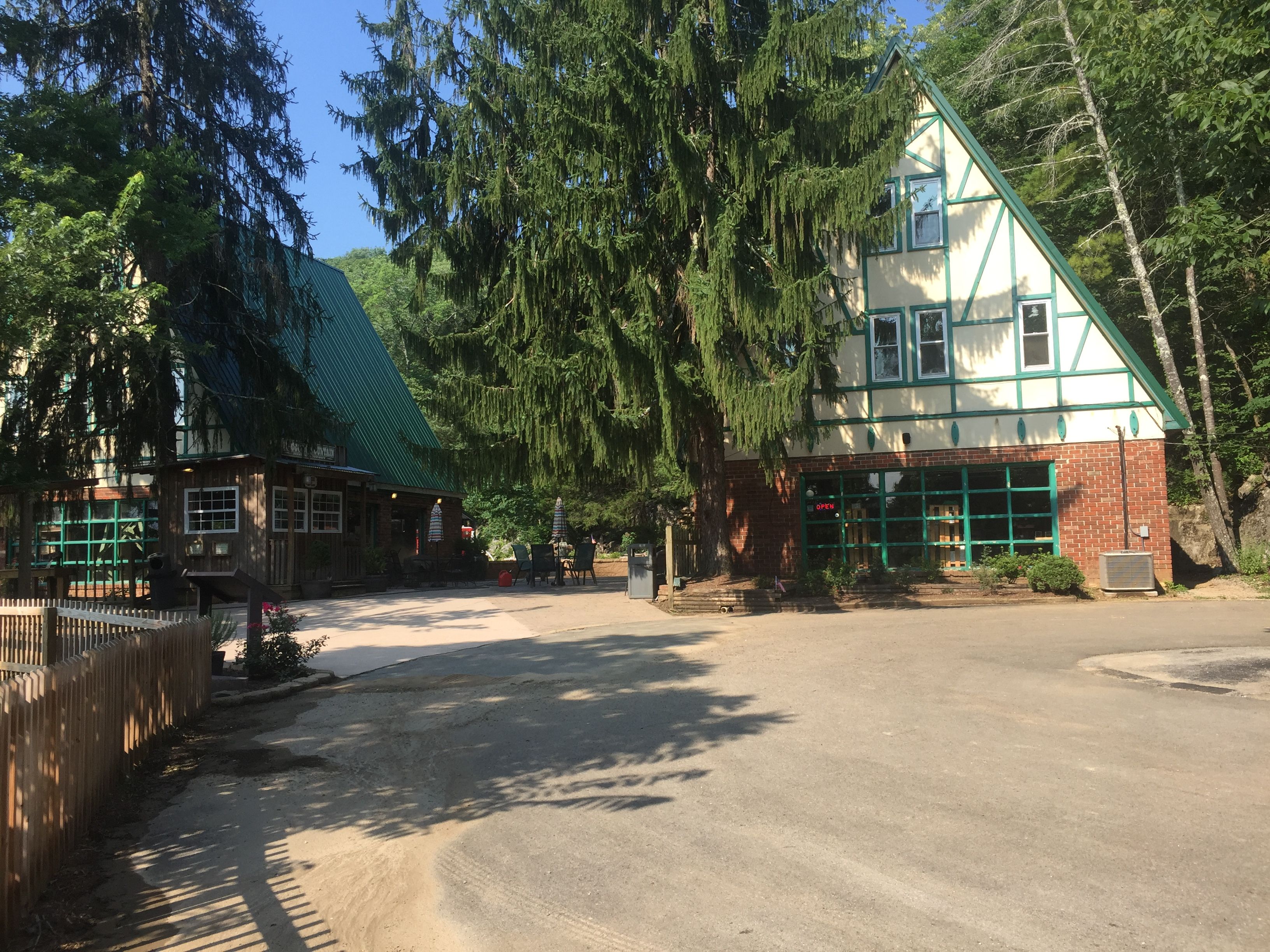 Cavern entrance conveniently hidden by this building.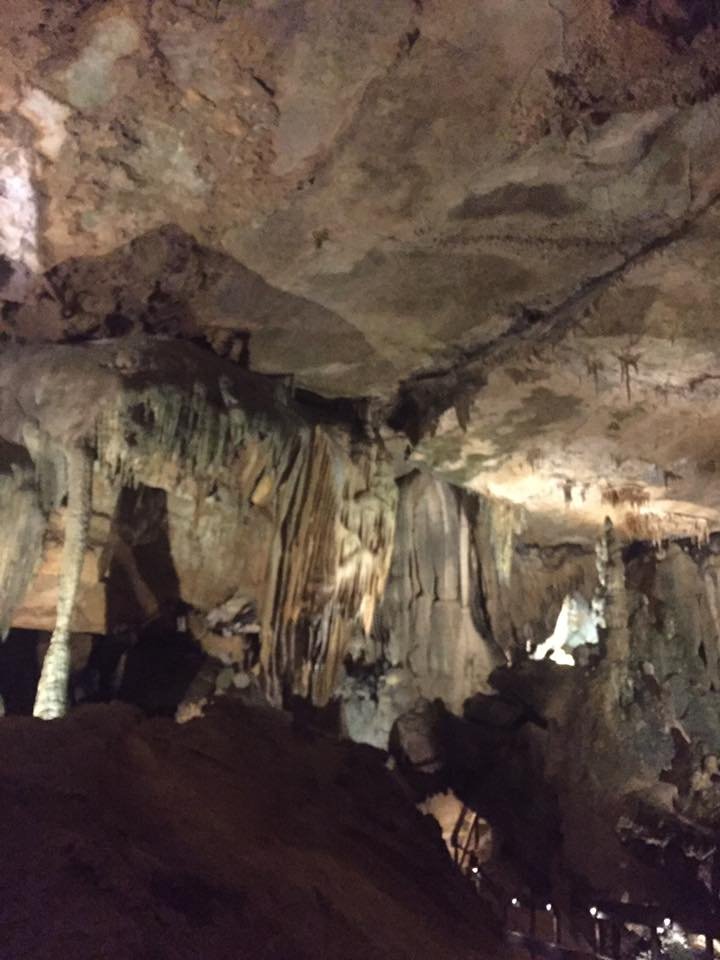 Caverns, sweet!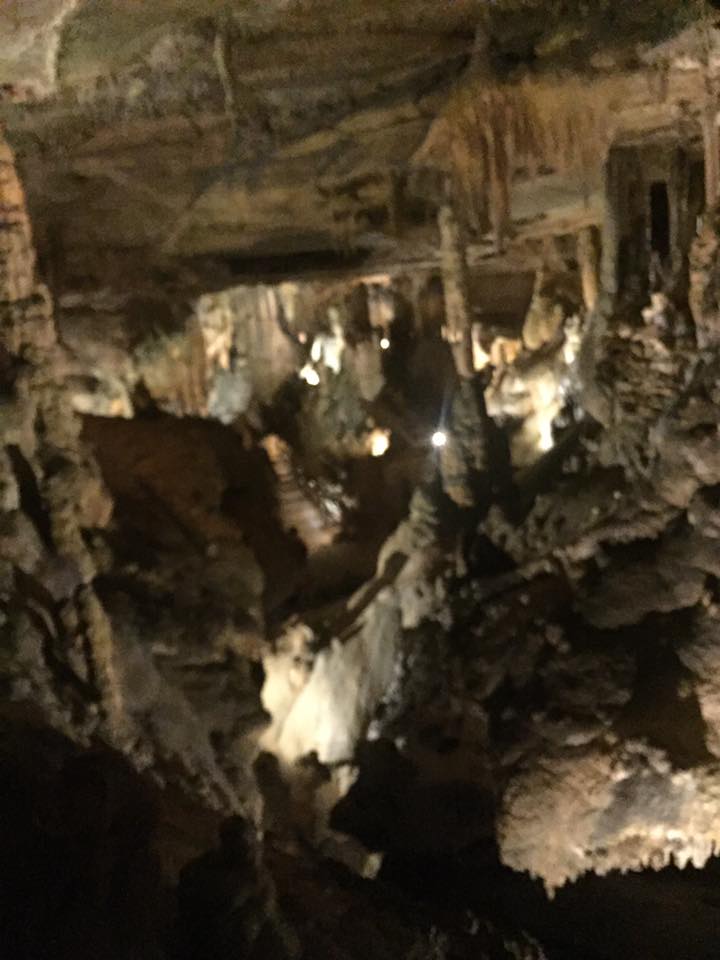 Stalagmites and stalactites, tight!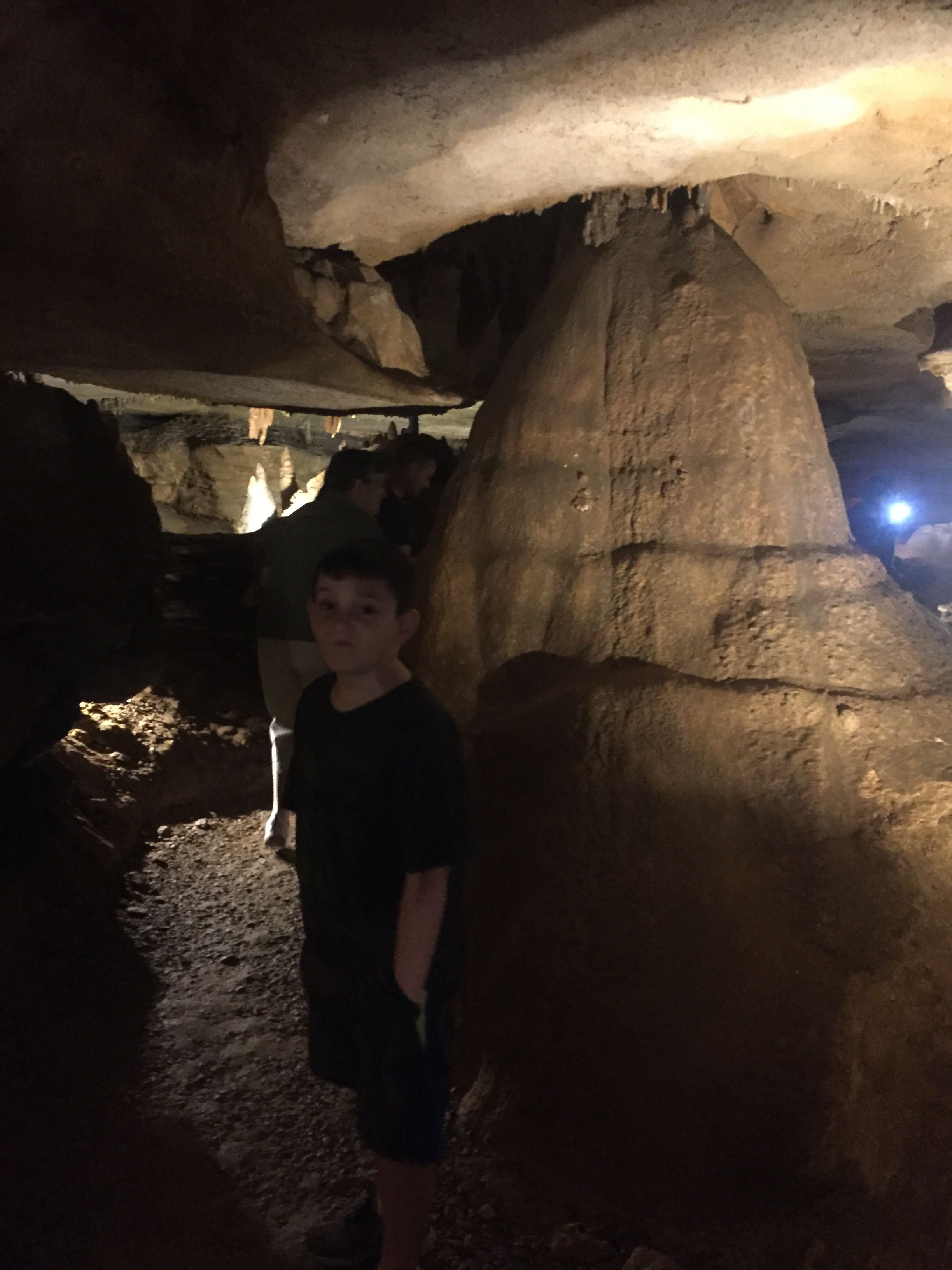 Nick is digging it, pun intended.
Raccoon Mountain has 3 tour options; a 45 minute walkthrough, a 2.5 hour walk and crawl and 4 hour tour which involves belly crawling through complete darkness in places barely big enough to fit through. I will be returning one day to do the 4 hour tour. Our son Nick absolutely loved it, like real life Minecraft exploring… GO STEVE!
Back to the camp site – I climbed up on top of our rig to add the sealant around the old TV antenna mount. One of our campground neighbors saw me doing this and asked if I was using Flexseal (as seen on tV) and offered me some he had after giving a glaring review of its ability to stop leaks, so I accepted his offer Flexsealed the $h!t out of it. 2 days later and I can happily report the leak appears to have stopped. Thank you random camper dude, rock on! We slow cooked some hot dogs on the grill, roasted marshmallows and I even got to bust out the guitar for a bit. Beautiful night.
Day 3 – Time to pack it up, dump the poop (sorry folks but this is a reality of life on the road) and head to our next destination. Goodbye Raccoon Mountain Caverns!
I would rate Raccoon Mountain Caverns an easy 4.5 for ease of access and amenities which include full hookups, wifi, secure shower rooms, pool, enclosed dog walk and of course THE CAVE!
We still didn't know exactly where we going but knew the direction which is all that really matters. While driving on the highway our AC cover dropped to the floor with a loud crash, more Mr Fix It Fun (a couple thick screws fixed this right up). On the road we picked a place to stay the night by throwing a dart at our handy dandy dartboard. I called Mississippi River State Park and secured our spot for the night. This one was just an overnight but a beautiful place to lay our heads.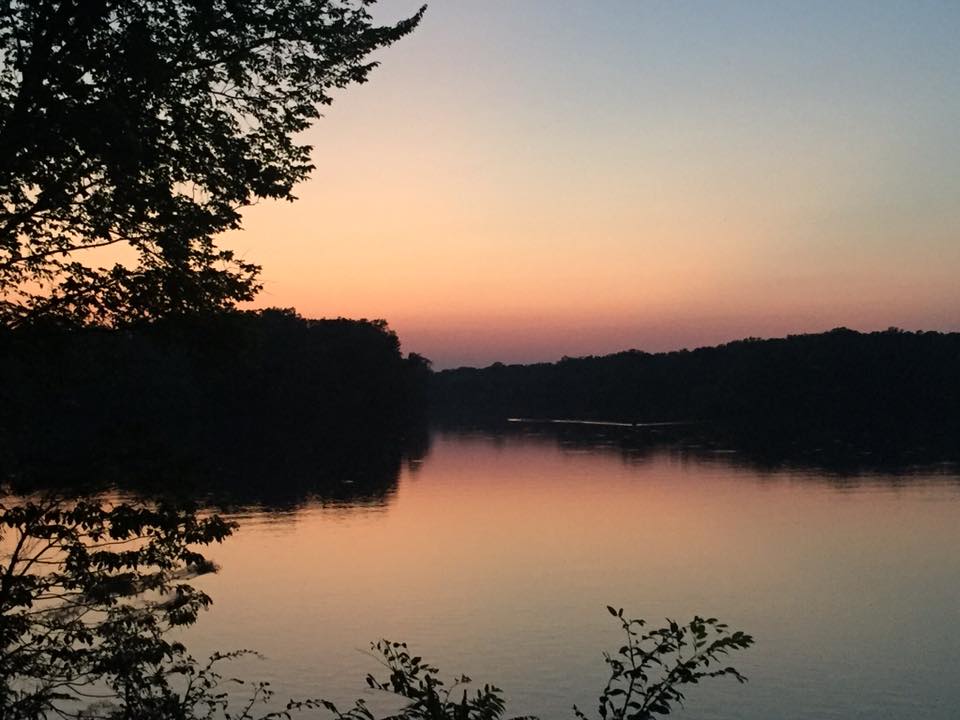 I would rate Mississippi River State Park a 4.0 as there were not as many amenities as our first stop and the bathrooms were a little meh. Our site wasn't packed in close to neighbors and the sites were amazing.
Day 4 – Back on the road with dart in hand ready to pick our next stop. Had to drive through the middle of nowhere to get back to the highway.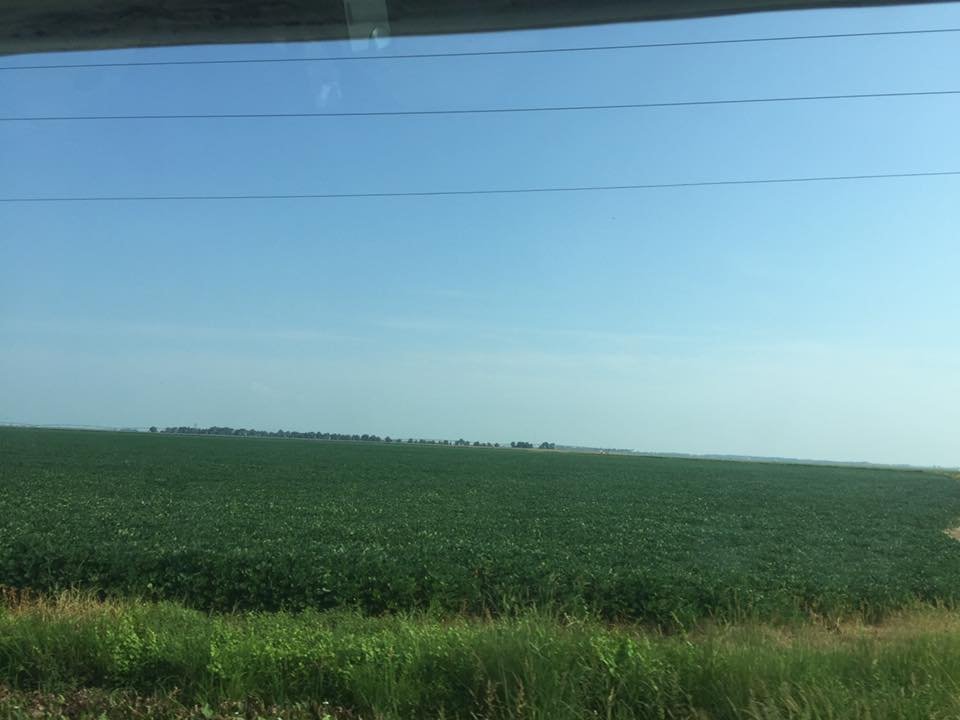 Somewhere along the road in Nebraska. Beautiful fields and open sky.
This is only the beginning of our adventure. Stay tuned for more and thanks for reading.